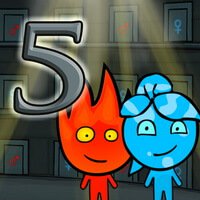 Fireboy and Watergirl 5 Elements
Description:Fireboy and Watergirl 5 ElementsExplore the Elemental Temples in Fireboy and Watergirl 5 (by Oslo Albet)! Solve many puzzles, collect all the diamonds and beat the time. Fireboy and Watergirl Elements is a completely new game with lots of new elements. Travel to all temples in the Fireboy Watergirl series. Enter the new Fire Temple, The Forest Temple, The Ice Temple, The Light Temple, The Wind Temple and The Crystal Temple. In FBWG5 you can play the adventure alone or with a friend. Reach the exit safely.
Control:Use the arrow keys or WASD on your keyboard to move.Use the onscreen buttons to move on your mobile device.
You Might Like Free Games
More Free Online Games